The 2022 Subaru Love Promise Community Commitment Award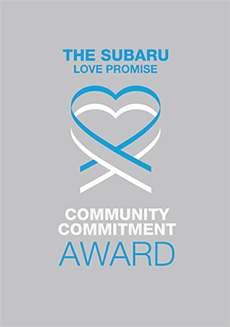 We've been nationally recognized for our dedication to our community and the Subaru Love Promise.
We're honored to receive the 2022 Subaru Love Promise Community Commitment Award. This award nationally recognizes Subaru retailers who are making the world a better place while demonstrating an outstanding commitment to supporting passions and causes in local communities. These efforts are focused in important areas such as the environment, community, health, education, and pets.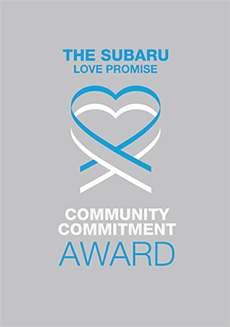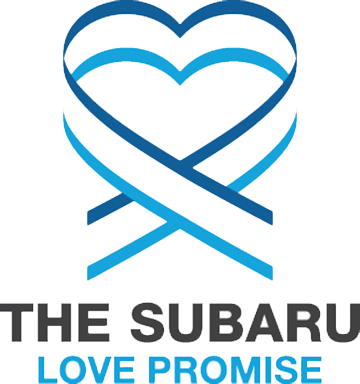 What is the Subaru Love Promise?
Subaru and our retailers believe in making the world a better place and the Subaru Love Promise is our vision of respecting all people. This is our commitment to show love and respect to our customers and to work to make a positive impact in the world.
How is Courtesy Subaru of Chico dedicated locally to the Love Promise?
Our Love Promise can be seen in various partnerships with local charities and non-profits. We're grateful for the opportunity, not only to be a part of our community, but to serve it as well.
Love Promise Stories from Courtesy Subaru of Chico
Subaru and Courtesy Subaru of Chico believe in making a positive impact on the communities in which we live and work. We uphold that belief through our Love Promise Community Commitment. Every month, we select inspiring stories from customers and partners from around our area who strive to support our collective commitment and feature them here
Noah and Subaru Loves Pets! - Gianna A
Noah arrived at Butte Humane Society (BHS) originally in October of 2020 and was quickly adopted out. Unfortunately, that didn't last long as he made his way back to BHS in September of 2021 after showing up as a stray dog at a shelter in Oroville. He had a large wound on his left front foot that needed medical attention and BHS quickly sprung into action to help him. Although Noah needed bandage changes twice a week, he was the perfect patient while receiving care. Despite all Noah had been through, he was always happy to see staff every day, receive attention and go for walks. It took BHS time to find Noah the perfect home that would be able to continue his treatment and show him how awesome life can be. Low and behold, Noah was adopted out by a family member of a veterinary assistant that was able to help continue his treatment. It all worked out in the end for Noah. Thank you Courtesy Subaru for helping Noah find his forever home!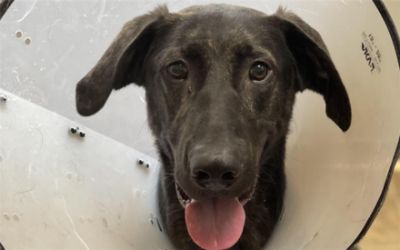 ---
Roland's Adoption - Gianna A
Roland came to Butte Humane Society (BHS) as an owner-surrender at 6 months of age with his sister Lilith. He faced medical issues that were challenging to resolve and included trying various medications and treatments to secure his health. However, this didn't stop Roland's loveable personality from shining through. He immediately became a staff favorite as he demanded attention from anyone who walked past his kennel and often tried to jump in your arms. Although an adorable kitten like himself, Roland's stay with BHS was surprisingly longer than expected as he kept getting passed over by potential adopters for other cats After a month of waiting in the shelter, he finally found his forever home his new family fell instantly in love and was able to take Roland home as a healthy and happy kitten. Thank you so much to Courtesy Subaru of Chico for bing a part of BHS and making these adoptions possible!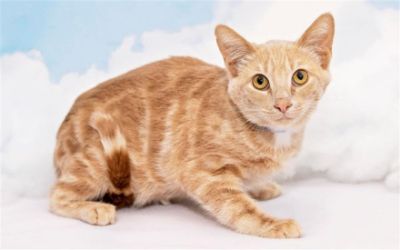 ---
Meet Simone at Butte Humane Society - Gianna A
Simone came to Butte Humane Society (BHS) as a surrender from Neighborhood Cat Advocates at only 10 weeks old. She and her brother Bubbles contracted ringworm sometime before entering our shelter and started showing symptoms right after her spay surgery. Her spay incision has gotten infected, so BHS staff had to start slow with the ringworm treatment and focus on spot treating her lesions until her incision healed up. Simone was housed in the BHS sick room for about a month before she able to be cleared by a doctor and moved onto the adoption floor. Once she was put into the free roam room, her personality truly shined. Full of energy, Simone was constantly zooming around and always ready to play. Within two days of being available, Simone had found her forever home. Simone and her adopter were truly delighted to be united and went home healthy and happy. Thank you so much to Courtesy Subaru of Chico for being a part of BHS and making these adoptions possible!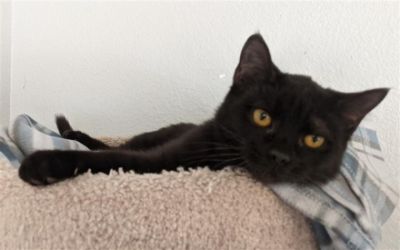 ---
Love Promise Event with the Enloe Foundation - Suzanne W
This donation is Courtesy Subaru of Chico's promise to continue making a positive impact in our own community. In May of 2021, the Enloe Foundation's main focus is supporting Cancer Services available at the Enloe hospital that will provide support for both patients and their families. Courtesy Subaru of Chico awards the check in the amount of $19,925. This Subaru Share the Love check brings the total Courtesy Automotive Group contributions to Enloe Foundation to over $140,000 since donations started in 2015!
---
Snoopy the Underdog - Shannon W
Meet Snoopy. This 12-year old sweet senior came to Butte Humane Society (BHS) as a surrender. Even under the best of circumstances, sometimes there are situations that force families to make very difficult decisions. In Snoopy's case, a new baby came home with his human mom and dad. After making a valiant effort to transition the family together peacefully, they decided the best options was to try and find a new home for Snoopy so that he would be less stressed and cranky. Snoopy was placed into foster while the adoption team worked to hind him his true forever home. His foster delighted in his spunky personality, and zest for life. He acted more like a puppy than an old man. It truly did not take along for someone to fall in love with Snoopy, who could resist? After just 2 months in the BHS Dog Adoptions Program BHS found Snoopy a match! Both Snoopy and his adopter are delighted to have each other and BHS is honored to have helped make it possible for the. Thank You Courtesy Subaru of Chico for being a part of BHS and making these adoptions possible!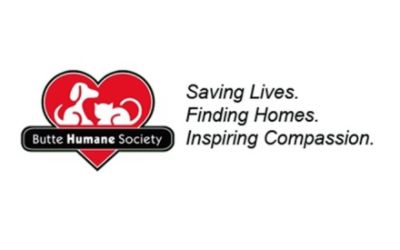 ---
Butte Humane Society Capital Campaign - Brad M
Butte Humane Society is announcing a donation of $100,000 from Courtesy Subaru of Chico, who claimed the naming opportunity for the "Get Acquainted Dog Yard" which will be outside at the Butte Humane Society's new facility. "The Pajouh's and Subaru of America have really stepped up for us and it's such a pleasure working with them and so many people in this community to turn this needed project into a reality" said Katrina Woodcox, Executive Director for Butte Humane Society. Woodcox added, "our current facilities are just not adequate to keep up with the needs of our community which has grown in both animal and human populations significantly since the 80's when we last upgraded our facilities. We are so excited to be building the animal facility our community deserves and we can't wait to get home!"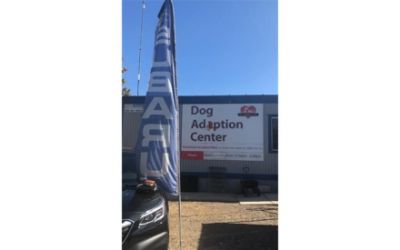 ---
Dead battery - Tawny C
On Sunday, after enjoying a play at PV High School, we found our battery dead. Our son came and gave it a jump, but when we pulled away, an alarm sounded and would not stop as we drove. I suggested to see if Courtesy Subaru of Chico was open and low and behold, it was. I think the gents name is Matt "Subaru" that helped us. He came out in the dark, rain, and cold and very cheerfully and professionally helped us brainstorm what the issue might be and he solved it. We had to reset the tailgate and the alarm stopped. So grateful for his help and his very cheerful attitude. I love our Subaru, bought from our daughter in law, that bought from you but if we are ever in the market in the future, Matt is the first person i would contact. I sure hope I have his name right! Warmly Tawny and Gary. PS, he should get a raise! He's great for you!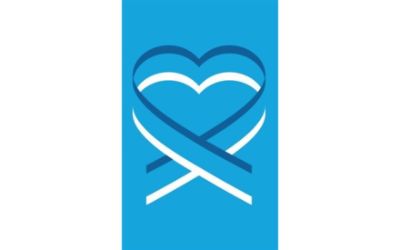 ---
Courtesy Subaru Chico Supports Heart Care - Jolene F
Courtesy Subaru of Chico made a significant donation to the Enloe Medical Center Cardiovascular Care Center Campaign in April 2019, presenting a check for over $18,000 to hospital executives. The generous gift represents proceeds from the Subaru of America Share the Love event along with a separate gift from Courtesy Subaru of Chico. The Enloe Cardiovascular Care Center Campaign raised more than $5 million to support the $20 million expansion of the Center. Construction is now underway and when complete, will more than double the size of cardiovascular care facilities to serve the northern California region. The presentation of the gift coincides with the completion of the campaign.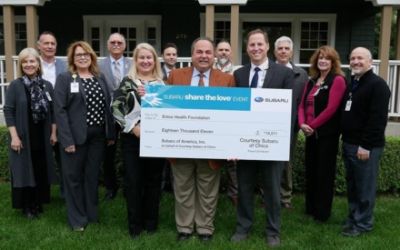 ---
Feather River Cancer Center Patient Assistance - Kevin F
Diane, Thank you so much for the generous blanket donation of your company and Subaru.Community support is so appreciated as we help these patients as they make their journey through the cancer experience. Cancer is challenging as it takes as much as it can get. The need to fight is real and sometimes a dark and fearful place.But, I can tell you first hand that when we give our patients reminders that a company in the community is there with them in their experience it is very comforting. With respect and appreciation, Kevin J. Fullerton RN MN Director, Cancer Center Adventist Health Feather River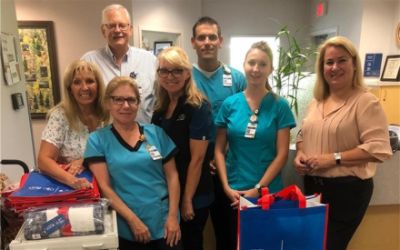 ---
Blankets, Craft Kits Donated to Feather River - Erica B
On July 18, 2018, Erica from The Leukemia & Lymphoma Society (LLS) drove up from Sacramento to meet with Diane Pajouh of Courtesy Subaru of Chico to deliver 80 blankets, 10 arts and crafts kits and several reusable bags for patients. This is the second year of partnership between Subaru and LLS, and the hospital couldn't be more grateful for the donation. We loved hearing how much the donation meant to not only the patients, but the staff as well. The hospital staff and social workers are excited to start passing out everything to patients! We absolutely love the partnership between Courtesy Subaru of Chico and LLS and hope we can continue providing hope, warmth and care to cancer patients at Adventist Health Feather River Cancer Center in the years to come. Thank you again!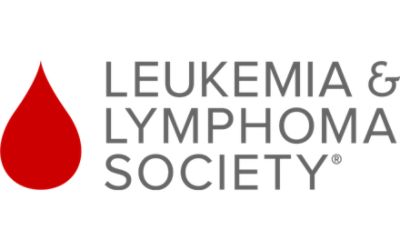 ---