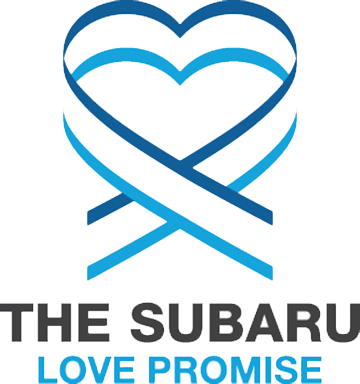 What is the Subaru Love Promise?
Subaru and our retailers believe in making the world a better place and the Subaru Love Promise is our vision of respecting all people. This is our commitment to show love and respect to our customers and to work to make a positive impact in the world.
How is Courtesy Subaru of Chico dedicated locally to the Love Promise?
Our Love Promise can be seen in various partnerships with local charities and non-profits. We're grateful for the opportunity, not only to be a part of our community, but to serve it as well.
Love Promise Stories from Courtesy Subaru of Chico
Subaru and Courtesy Subaru of Chico believe in making a positive impact on the communities in which we live and work. We uphold that belief through our Love Promise Community Commitment. Every month, we select inspiring stories from customers and partners from around our area who strive to support our collective commitment and feature them here
Love Promise Event with the Enloe Foundation - Suzanne W
This donation is Courtesy Subaru of Chico's promise to continue making a positive impact in our own community. In May of 2021, the Enloe Foundation's main focus is supporting Cancer Services available at the Enloe hospital that will provide support for both patients and their families. Courtesy Subaru of Chico awards the check in the amount of $19,925. This Subaru Share the Love check brings the total Courtesy Automotive Group contributions to Enloe Foundation to over $140,000 since donations started in 2015!
---
Snoopy the Underdog - Shannon W
Meet Snoopy. This 12-year old sweet senior came to Butte Humane Society (BHS) as a surrender. Even under the best of circumstances, sometimes there are situations that force families to make very difficult decisions. In Snoopy's case, a new baby came home with his human mom and dad. After making a valiant effort to transition the family together peacefully, they decided the best options was to try and find a new home for Snoopy so that he would be less stressed and cranky. Snoopy was placed into foster while the adoption team worked to hind him his true forever home. His foster delighted in his spunky personality, and zest for life. He acted more like a puppy than an old man. It truly did not take along for someone to fall in love with Snoopy, who could resist? After just 2 months in the BHS Dog Adoptions Program BHS found Snoopy a match! Both Snoopy and his adopter are delighted to have each other and BHS is honored to have helped make it possible for the. Thank You Courtesy Subaru of Chico for being a part of BHS and making these adoptions possible!
---
Butte Humane Society Capital Campaign - Brad M
Butte Humane Society is announcing a donation of $100,000 from Courtesy Subaru of Chico, who claimed the naming opportunity for the "Get Acquainted Dog Yard" which will be outside at the Butte Humane Society's new facility. "The Pajouh's and Subaru of America have really stepped up for us and it's such a pleasure working with them and so many people in this community to turn this needed project into a reality" said Katrina Woodcox, Executive Director for Butte Humane Society. Woodcox added, "our current facilities are just not adequate to keep up with the needs of our community which has grown in both animal and human populations significantly since the 80's when we last upgraded our facilities. We are so excited to be building the animal facility our community deserves and we can't wait to get home!"
---
Dead battery - Tawny C
On Sunday, after enjoying a play at PV High School, we found our battery dead. Our son came and gave it a jump, but when we pulled away, an alarm sounded and would not stop as we drove. I suggested to see if Courtesy Subaru of Chico was open and low and behold, it was. I think the gents name is Matt "Subaru" that helped us. He came out in the dark, rain, and cold and very cheerfully and professionally helped us brainstorm what the issue might be and he solved it. We had to reset the tailgate and the alarm stopped. So grateful for his help and his very cheerful attitude. I love our Subaru, bought from our daughter in law, that bought from you but if we are ever in the market in the future, Matt is the first person i would contact. I sure hope I have his name right! Warmly Tawny and Gary. PS, he should get a raise! He's great for you!
---
Courtesy Subaru Chico Supports Heart Care - Jolene F
Courtesy Subaru of Chico made a significant donation to the Enloe Medical Center Cardiovascular Care Center Campaign in April 2019, presenting a check for over $18,000 to hospital executives. The generous gift represents proceeds from the Subaru of America Share the Love event along with a separate gift from Courtesy Subaru of Chico. The Enloe Cardiovascular Care Center Campaign raised more than $5 million to support the $20 million expansion of the Center. Construction is now underway and when complete, will more than double the size of cardiovascular care facilities to serve the northern California region. The presentation of the gift coincides with the completion of the campaign.
---
Feather River Cancer Center Patient Assistance - Kevin F
Diane, Thank you so much for the generous blanket donation of your company and Subaru.Community support is so appreciated as we help these patients as they make their journey through the cancer experience. Cancer is challenging as it takes as much as it can get. The need to fight is real and sometimes a dark and fearful place.But, I can tell you first hand that when we give our patients reminders that a company in the community is there with them in their experience it is very comforting. With respect and appreciation, Kevin J. Fullerton RN MN Director, Cancer Center Adventist Health Feather River
---
Blankets, Craft Kits Donated to Feather River - Erica B
On July 18, 2018, Erica from The Leukemia & Lymphoma Society (LLS) drove up from Sacramento to meet with Diane Pajouh of Courtesy Subaru of Chico to deliver 80 blankets, 10 arts and crafts kits and several reusable bags for patients. This is the second year of partnership between Subaru and LLS, and the hospital couldn't be more grateful for the donation. We loved hearing how much the donation meant to not only the patients, but the staff as well. The hospital staff and social workers are excited to start passing out everything to patients! We absolutely love the partnership between Courtesy Subaru of Chico and LLS and hope we can continue providing hope, warmth and care to cancer patients at Adventist Health Feather River Cancer Center in the years to come. Thank you again!
---
Share the Love with Enloe Foundation - Mike W
A very generous check was donated to an important health care center in Chico Thursday April 26, 2018. Courtesy Subaru of Chico donated a $7,147.22 check to the Enloe Foundation. The contribution brings Courtesy Automotive Centers total donations over the course of three years to $52,472. The money was raised from Subaru vehicles sold over the Holiday Season through Subaru USA's Share the Love Campaign. "We would never be able to do what we do and we would never be able to fulfill our mission if it wasn't for generous businesses and folks like this and the effort of the community to support us," said Mike Wiltermood, the CEO of Enloe Medical Center. "Well, it is always nice to re-invest in our community. I think it's very important for all of us to give back so that's what we try to do during the course of the year and be able to give back," said Jerry Pajouh, CEO and President of the Courtesy Subaru of Chico. Currently, the Enloe Foundation is focusing on building an expanded Cardiovascular Care Center on the hospital's Esplanade Campus.
---
Subaru Loves to Care - Erica B
LLS Sacramento's partnership with Subaru is one-of-a-kind, but the experience with Courtesy Subaru of Chico and Feather River Hospital in Paradise was extra special. I've attended most of the blanket drop-offs for our chapter, but I had the most wonderful time at this one because we were able to give blankets directly to the patients ourselves. It put a huge smile on my face to see them smile, and to provide hope and comfort to someone who's already gone through so much already. I loved Diane's passion for Subaru supporting the local community and Kevin's big heart for his patients, staff and the hospital overall. Everyone welcomed LLS and Subaru with smiles and thanks, and I couldn't have been more honored to be part of this opportunity and hope Subaru will continue their partnership with LLS in the future!
---
Extraordinary Experience - Carol H
While getting a new car is always an exciting adventure, the journey has not always been easy/pleasant in the past at other dealerships. Leasing our new Subaru Forester from Chico Courtesy Automotive was a wonderfully new experience for us. EVERY SINGLE PERSON WE ENCOUNTERED over the last three days from Scott and Benny in the Service Department, to Jerry the owner, Matt and Isaac our salesmen, to Cameron in Finance, and Dave the Subaru Manager, we were greeted with a genuine smile and were listened to intently as to what our needs were. When viewing the cars, we were shown a variety of options and NOT PRESSURED! When we decided on a Forester, the car available did not have all the options we wanted and Dave, the manager was able to secure one by the following day. Isaac went above and way beyond explaining thoroughly, information about our new purchase and then took us for a ride demonstrating all the features. He was exceptionally patient with our multitude of questions, and we never felt we were taking up too much of his time. What we noticed throughout our experience, was the use of the word "FAMILY" by so many different individuals; that we were part of their family now. We were assured by EVERYONE, that if we have any questions to come by or call them personally. We strongly suggest visiting Courtesy Automotive for the BEST car purchase/lease and/or service experience you will ever have.We feel we are truly part of their family now.
---